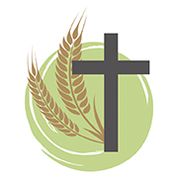 About Springfield Community Church
Our mission at Springfield Community Church is to ignite a passion for the Gospel of Jesus Christ, while cultivating Deeply Devoted Disciples in this generation and the NEXT. Our purpose is to know God, to love others, and to make God known.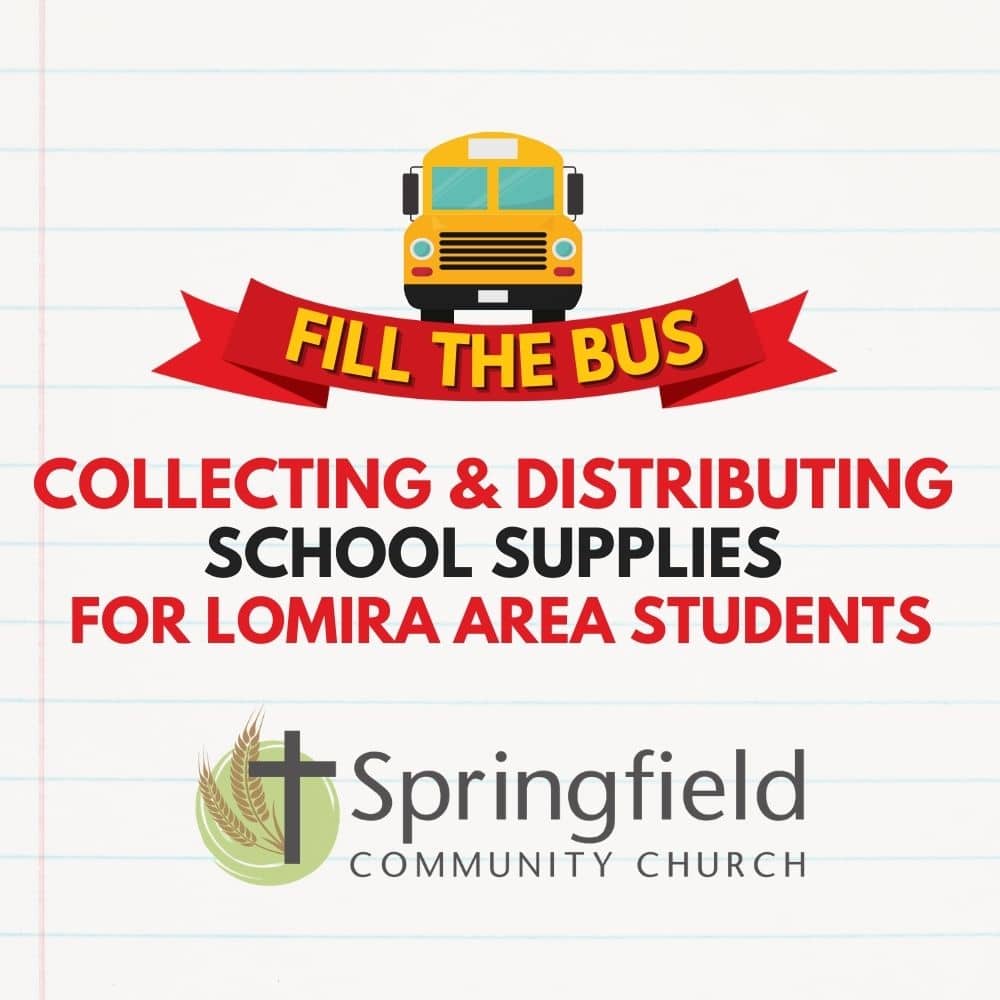 FILL THE BUS SCHOOL SUPPLY DRIVE
Springfield Community Church of Lomira, in cooperation with the Lomira School District, will be collecting new school supplies to distribute to students in all grades within the district. Supplies can be dropped off at the church located at 412 Pleasant Hill Drive in Lomira no later than Sunday, August 15.
All students are welcome to come to the church on Wednesday, August 18, between 11:00 am and 6:00 pm to pick out any school supplies they may need. Any remaining supplies will be distributed between Lomira and Theresa on the first day of school. A school supply list can be found by clicking here or on the Lomira School District website (click on each school to locate their supply list). For additional information, please call (920) 583-6456 or email Springfield@SCCLomira.org.
4:12 Kids Children's Ministry
4:12 KIDS is our Children's Ministry program, which is offered to all children from birth through 5th grade during our 9:00 service. Children up to age four are welcome in our Nursery during the full hour; they play, listen to Bible stories and Bible-based songs, and complete simple, age-appropriate crafts in a safe, loving environment. Children ages 4 through 5th grade are dismissed from the service just prior to the sermon in order to join their classes for age-appropriate, Biblically-sound lessons from Answers Bible Curriculum (ABC), published by Answers in Genesis. The heart of our lessons each week centers around studying God's Word; review games and simple crafts or activities for the younger children are included as time allows.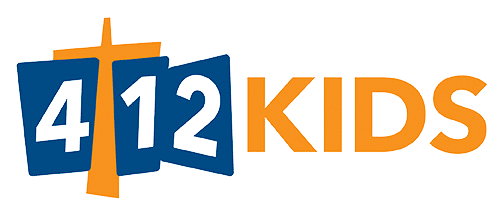 There are many ways to get engaged at Springfield Community Church. We have several ministries for our church family to get involved.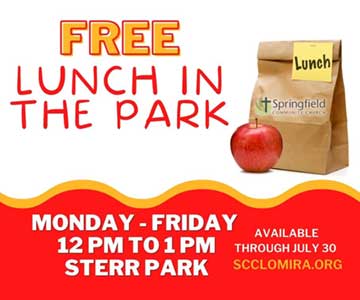 Springfield Community Church in Lomira will be offering a FREE "Lunch in the Park" each weekday, Monday through Friday, from 12:00 pm to 1:00 pm. The general public is welcome to meet under the pavilion at Sterr Park for a complimentary bag lunch, beverage, and a message. This free lunch program will run through July 30.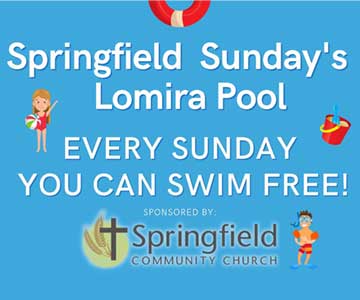 Lomira and surrounding communities can enjoy an afternoon of swimming at the Lomira Pool on Sundays free of charge sponsored by Springfield Community Church in Lomira. With thanks to the generosity of the Springfield family, all swimming fees are waived on Sunday afternoons throughout the 2021 summer season. Sunday pool hours are from 12:00 pm to 7:00 pm.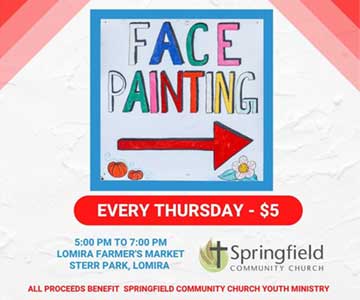 Farmers Market
Face Painting
Every Thursday from 5:00 pm to 7:00 pm, Springfield Community Church in Lomira will be Face Painting at the Lomira Farmer's Market. Cost is just $5 and proceeds will benefit the Youth Ministry activities at the church.
We invite you to worship with us on Sunday mornings in whatever capacity you are comfortable doing so. We have in-person worship every Sunday at 9:00 am and 10:45 am at our newly remodeled church building located at 412 Pleasant Hill Avenue in Lomira. We LIVE STREAM our 9:00 am service each week.
Stay Connected With Springfield Community Church
Stay up to date with what's happening at Springfield Community Church by receiving our weekly email communication.